Parents and Citizens' Association (P&C)
Our Parents and Citizens' Association (P&C) is made up of parents and carers, teachers and community members. The P&C meets regularly to contribute to decision-making, developing policies and management plans as well as fundraising.
President:                Ann Beirne
Vice President:          Amanda Waters
Secretary:                  Kuba McCormack
Treasurer:                  Cordelia Jones-Mashman
Canteen Manager:    Amanda Finucane
Uniform:                    Cordelia Jones-Mashman
P&C Facebook Page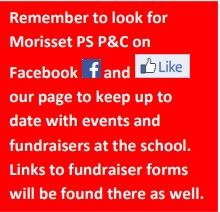 P&C Newsletter 2020 Term 4 Week 5
(Following is an edit, for a full version check the School Newsletter)
This will be the last Newsletter from me as your President - as our constitution allows us a maximum of 5 years in position, there will be a new President after the AGM. Thank you all for your support!
MEETINGS: 
Our next meeting will be the AGM on FRIDAY 26th November at 1:00pm – at this stage it will be via ZOOM ONLY, but this may change. Only financial members are eligible to stand for a P&C position, or vote.
The next general meeting will follow on directly after the AGM, at around 1:20pm. All are welcome to attend, so please email us at mpspc@yahoo.com for the link by Thursday 25th November.
CANTEEN NEWS:
Canteen is open on Fridays for breakfast and lunch ONLY (NO afternoon recess) while school is still on Level 3. This is because of staggered lunchtimes, meaning that lunch will overall take much longer than usual. Students are still able to come to canteen for counter service after they've eaten their lunch, in their cohort's time-slot.
BIRTHDAY MUFFIN SERVICE
We are still able to offer this service! See our P&C FB page or the school website under Canteen for more details and the order form 😊
UNIFORM SHOP:
The uniform shop is now available to attend in person – one adult only who must be double vaccinated and sign in. You can hold uniform items up against the child to estimate fit but under COVID 19 guidelines, students are still not allowed to try anything on. Opening times 8:45-9:30am Friday, or by appointment with the office – online orders to be in by 5pm on the Thursday for pickup the next day.
Order forms (including a sizing guide) are available in the office, or online; OR you can use School 24, especially if you need to pay by credit card.
Orders can be collected from the Office on showing proof of purchase – please phone the office before pick up to arrange a suitable time.
Thanks for having me as your President for the last 5 years – it has been an honour and a privilege.
Ann Beirne, President of Morisset PS P&C