Parents and Citizens' Association (P&C)
Our Parents and Citizens' Association (P&C) is made up of parents and carers, teachers and community members. The P&C meets regularly to contribute to decision-making, developing policies and management plans as well as fundraising.
President:                Ann Beirne
Vice President:          Amanda Waters
Secretary:                  Kuba McCormack
Treasurer:                  Cordelia Jones-Mashman
Canteen Manager:    Amanda Finucane
Uniform:                    Cordelia Jones-Mashman
P&C Facebook Page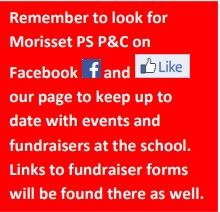 P&C Newsletter 2020 Term 3 Week 3
(Following is an edit, for a full version check the School Newsletter)
MEETINGS: 
Our next meeting will be via ZOOM ONLY and is set for FRIDAY 10th September at 11:30am. All are welcome to attend via Zoom, so please email us at mpspc@yahoo.com for the link by Thursday 9th September.
FUNDRAISING:
All money raised by the P&C goes towards helping the school purchase equipment/ materials for the students. 
Fundraisers we hope to be running this term: 
Fathers' Day stall – Thursday 2nd September 
Egg 'n' bacon rolls at the polling station for Local Government Elections – Saturday 4th September [TBC – depending on Covid restrictions]
Picture plates, clocks and calendars – end of T3 for T4
P&C contributed $1000 towards the costs of the flash drives that were used for distributing copies of last year's school musical – hope you enjoyed watching yours!
CANTEEN NEWS: 
While the COVID restrictions are still in place for Central So far, we're keeping canteen open but new volunteers are always welcome.
BIRTHDAY MUFFIN SERVICE We are still offering the birthday muffin service. See our P&C FB page or the school website under Canteen for more details. You can also ask in the office 😊 

We have lost a few canteen volunteers so URGENTLY need some new ones – please fill in the form overleaf if you would like to join our canteen volunteer team and see your children at school!
UNIFORM SHOP: 
PLEASE NOTE: THE UNIFORM SHOP HAS MOVED! NOW IN THE OFFICE AREA. Opening hours are the same: FRIDAYS from 8:45 til 9:45am. Order forms are also available in the office, or online or you can use School 24, especially if you need to pay by credit card/eftpos. Orders can be collected from the Office outside of uniform shop hours on showing proof of purchase.