Parents and Citizens' Association (P&C)
Our Parents and Citizens' Association (P&C) is made up of parents and carers, teachers and community members. The P&C meets regularly to contribute to decision-making, developing policies and management plans as well as fundraising.
President:                Amanda Finucane
Vice President:         Ann Beirne
Secretary:                  Kuba McCormack
Treasurer:                  Kathleen Roche
Canteen Manager:    
Uniform:                    
P&C Facebook Page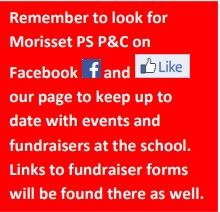 P&C Newsletter 2022 Term 2 Week 5
(Following is an edit, for a full version check the School Newsletter)
Our next P&C meeting will be held via Zoom on Monday 25th July at 1pm. Please email mpspc@yahoo.com if you would like to attend or look out on our Facebook page.
We need EXTRA VOLUNTEERS are always welcome to help with canteen and events for our students even if it is just adhoc or once a month. Please contact Amanda Finucane on 0414 270 885.
Athletics carnival (postponed)
Monday 6th June – Volunteers needed between 8am – 12pm
• PRE-ORDERS FOR LUNCH & BBQ are available online via
the School 24 app under Events from Wed 21st
• Orders close Friday 3rd May at 5pm
• We will not be accepting cash pre-orders for this event
• Parents are welcome to pre-order by creating yourself under
Cookie Pizza Fundraiser – Starts 1st June 2022
• Orders open 1st June and close no later then 16th June
• Delivery will be to the school on Thursday 23rd June and we ask parents send a bag in on the day
• Paper Forms will be sent home next week and online orders are available via the School 24 app under 'Events'
CANTEEN NEWS:
CANTEEN IS RE-OPENING ON WEDNESDAYS!
From Wednesday 1st June we are opening again for Breakfast and Lunch (no recess service). Thank you to our volunteers who are stepping up to complete additional volunteer hours on these days to make this possible.
UNIFORM SHOP:
Uniform Shop Opening Hours are 8.45am – 9.30am on Friday mornings. You can order via School 24, or forms are available in the office and online here. DON'T FORGET OUR NEW POLAR FLEECE JACKETS ARE NOW AVAILABLE FOR $30 (Size 10 is currently sold out)
Online and form orders will be available for collection, on receipt of full payment, from the office on Friday mornings after 10am each week.
Amanda Finucane, President of Morisset PS P&C